Western Australia shivers through one of its Coldest starts to Winter on record
Swathes of Australia have registered an unusually cold month of June, particularly Western Australia.
Perth –capital and largest city of the state of Western Australia— is shivering through one its coldest starts to winter on record following the invasion of a string of polar cold fronts tossed-up from Antarctica.
Data from the warm-mongering Bureau of Meteorology (BOM) show the mean temperature for June –a combination of maximums and minimums– was just 12.9C (55.2F) — a reading which makes this the second coldest June ever recorded, and the coldest for 26 years–since 1995 (solar minimum of cycle 22).
Bureau climatologist Yanhui Blockley said the anomalously-low mean was driven by a powerful cold air mass in late June that was dragged up from the Antarctic.
"[It] brought a period of not just cold nights," said Blockley, "but daytime temperatures in the mid-teens."
The mass of cold polar air led to a string of record-breaking nights where the registered lows were among the coldest on record for the city — Perth Airport, for example, dropped to 0.5C (32.9F) on June 21, its lowest mark since 2015.
Freezing lows were felt elsewhere across the state, with towns in the Central Wheatbelt, and Great Southern regions all regularly plunging into sub-zero territory (C) throughout the month.
Many regions –too many to list here– also experienced their coldest June average maximum temperatures on record, these included the Wheatbelt town of Dalwallinu, the World Heritage Site of Shark Bay, and the eastern Wheatbelt town of Lake Grace.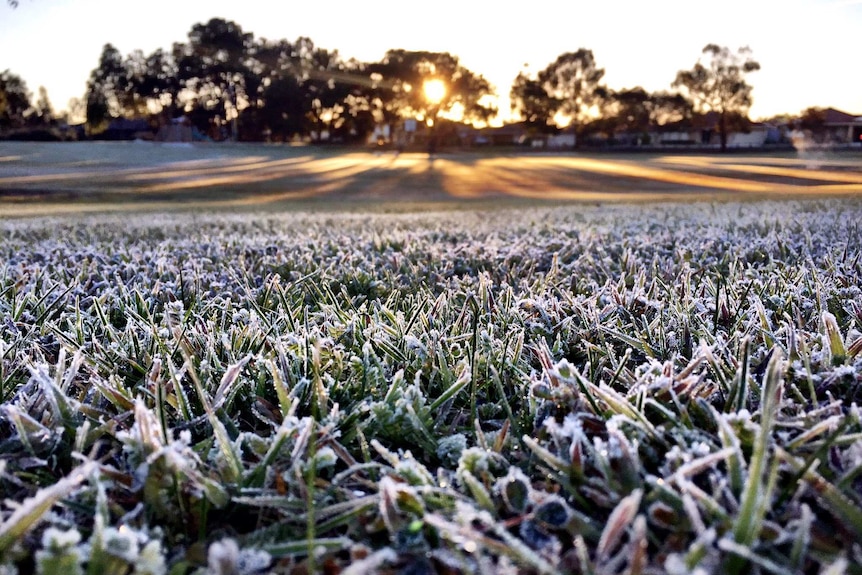 With regards to rainfall –a hot topic Down Under– despite a dry June, overall figures for the year are "looking healthy", reports abc.net.au.
Year to date rainfall stats for Western Australia show it's been an average to above-average year for most of the state; but those cunning climate alarmists have all bases covered: the flooding that occurred in Western Australia's north this month –where a heavy cloud band released nearly a years' worth of rain in the space of hours over the town of Exmouth– is just as much a sign of CAGW as the drought-conditions in Southwest.



The Southwest can expect a change for the wetter through the weekend, according to the BOM, as June's unusual polar chill persists into July:



Antarctic Front on course for the East this Weekend
The likes of Victoria, in eastern Australia, will see a brutal cold front smash into the state this weekend, bringing icy air, strong winds and wintry storms.
Temperatures across Victoria will take a serious tumble beginning Friday, July 1, with many towns and cities set to struggle to double figures (C).
BOM forecaster Hannah Marsh said "very cold air" will hit later on Friday and run into the weekend, at least.
She said the cold front was moving over Victoria's western border on Friday morning, and would hit parts of western and central Victoria by the afternoon.
"We've got a cold front associated with a deep low pressure system that is currently in the Southern Ocean and will move into the Bass Strait this weekend — with it comes some very cold air," Marsh said.
Marsh added that the peak of the cold air would hit on Saturday with the mercury in Melbourne and Geelong, for example, registering highs of barely 12C (53.6F) after an overnight low of 4-5C (39.2-41F).
While areas in central parts of the state won't even reach double figures.



Heavy snow is forecast for locales some 1,500m (4,900ft) above sea level on Friday, which will lower to 800m (2,600ft) later in the day, and then drop below 700m (2,300ft) on Saturday.
Given the severity of the looming freeze, showers and strong north-westerly winds, a warning has been issued for sheep graziers, with the areas likely to be worst affected being north central and south west districts, parts of the Mallee, Wimmera, Northern Country, North East, Central, West and South Gippsland, and East Gippsland.
"There is a risk of losses of lambs and sheep exposed to these conditions," the Bureau of Meteorology warned.



The COLD TIMES are returning, the mid-latitudes are REFREEZING, in line with the great conjunction, historically low solar activity, cloud-nucleating Cosmic Rays, and a meridional jet stream flow (among other forcings).
Both NOAA and NASA appear to agree, if you read between the lines, with NOAA saying we're entering a 'full-blown' Grand Solar Minimum in the late-2020s, and NASA seeing this upcoming solar cycle (25) as "the weakest of the past 200 years", with the agency correlating previous solar shutdowns to prolonged periods of global cooling here.
Furthermore, we can't ignore the slew of new scientific papers stating the immense impact The Beaufort Gyre could have on the Gulf Stream, and therefore the climate overall.



Prepare accordingly— learn the facts, relocate if need be, and grow your own.


Social Media channels are restricting Electroverse's reach: Twitter are purging followers while Facebook are labeling posts as "false" and have slapped-on crippling page restrictions.
So, be sure to subscribe to receive new post notifications by email (the box is located in the sidebar >>> or scroll down if on mobile).
Please also consider disabling ad blockers for electroverse.net, if you use one.
And/or become a Patron, by clicking here: patreon.com/join/electroverse.
The site receives ZERO funding, and never has.
So any way you can, help us spread the message so others can survive and thrive in the coming times.


Grand Solar Minimum + Pole Shift