UK Snow Warning Upgraded to Amber: "a danger to life"
Much heavier snowfall than originally forecast will bury large swathes of the UK today (Feb. 11), prompting the UK Met Office to upgrade its Snow Warning to Amber: "a danger to life."
Travel delays, road and rail closures, and power cuts are expected across Wales, northern England, and Scotland mid-week as a blast of brutal Arctic weather buffets Britain in-between two powerful Atlantic storms "Ciara" and "Dennis."
Parts of the UK suffered 100mph (161kmh) winds as well as severe flooding on Sunday, leaving more than 20,000 homes STILL without power.
Then Monday rolled around bringing with it heavy, low-level snow to many northern parts as a trough of frigid Polar air plunged anomalously far south:



The Met Office is estimating a further 20cm (8 inches) of snow through Tuesday, with meteorologist Alex Burkill saying: "While Storm Ciara is clearing away, that doesn't mean we're entering a quieter period of weather. It's going to stay very unsettled.
"We have got colder air coming through the UK and will be feeling a real drop in temperatures. There could be up to 20cm [of snow] on Tuesday and with strong winds, blizzards aren't out of the question."
Since then, the Met Office has actually UPGRADED its weather alerts, now putting a large pocket of southern Scotland under an Amber "danger to life" warning from 14:00 to 21:00 on Tuesday: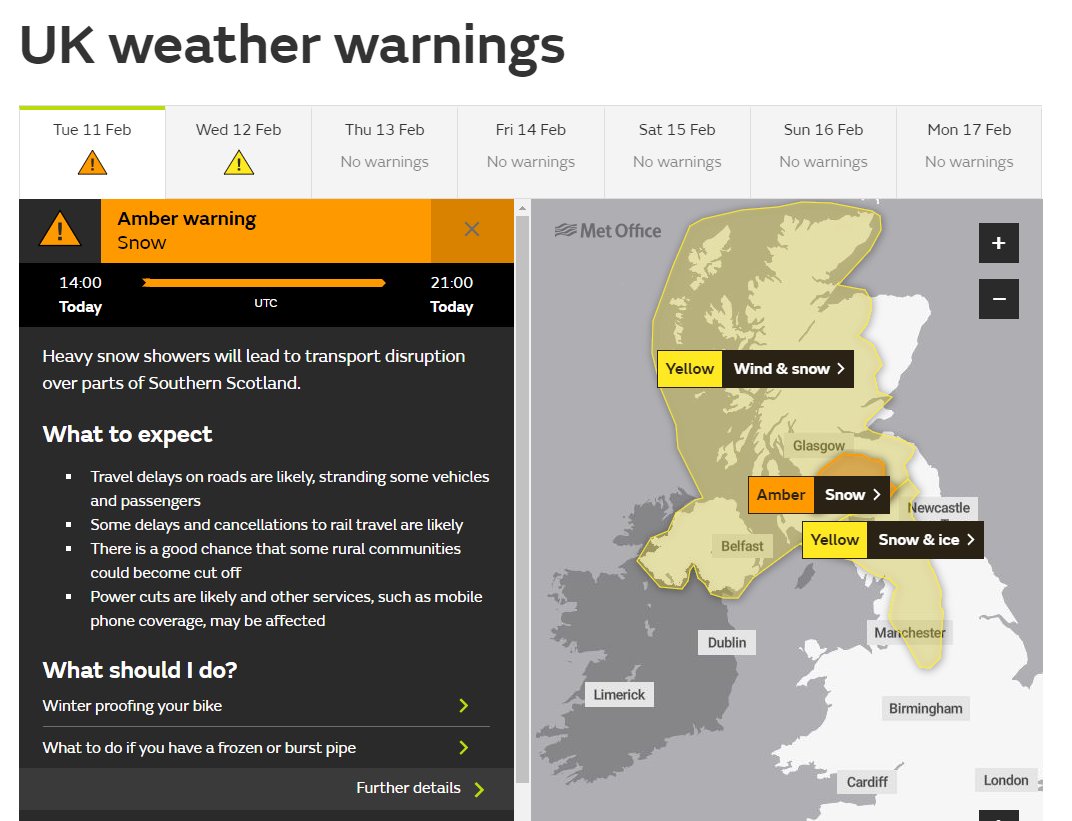 Only essential journeys are being advised, with a Met Office statement reading:
"Travel delays on roads are likely, stranding some vehicles and passengers. There is a good chance that some rural communities could become cut off. Power cuts are likely and other services, such as mobile phone coverage, may be affected."
Looking at the latest GFS run (below), 40+cm (16+ inches) of snow is forecast to bury the Scottish highlands Tuesday through Wednesday, with heavy falls also expected in Northern Ireland, northern and central England, and practically ALL of Wales:



The cold times are returning in line with historically low solar activity.



Don't fall for bogus, warm-mongering political agendas — prepare for the COLD.


Social Media channels are restricting Electroverse's reach — be sure to subscribe to receive new post notifications by email (the box is located in the sidebar >>> or scroll down if on mobile).
And/or become a Patron, by clicking here: patreon.com/join/electroverse
The site receives ZERO funding, and never has.
Any way you can, help us spread the message so others can survive and thrive in the coming times.


Grand Solar Minimum + Pole Shift