Pakistan and Afghanistan: Death toll surpasses 200 as Extreme Cold and Heavy Snow continues to Ravage Southern Asia
The Pakistani army has been called-in to assist with relief efforts as many regions, particularly in the north of the country, continue to be ravaged by brutal, anomalous cold and snow.
At least 100 people have died, with many more reported injured, as severe cold and heavy snowfall continued to lash parts of Pakistan on Wednesday, January 15.
Northern parts have seen 62+ people die this week alone after avalanches buried some fifteen villages in Azad Jammu & Kashmir, according to the National Disaster Management Authority (NDMA). In addition, over 50 house were destroyed in the region.
Furthermore, at least 25 people were killed and around 40 houses flattened in the province of Balochistan during the last 24 hours.
And the week's death toll in Neelum Valley currently stands at 21, with an additional 42+ people severely injured and taken to hospital, and at least another 10 still missing, reads the NDMA report.
"Most of those who died were women and children," said Mohammad Younus, an NDMA official, adding that hundreds more remained stranded.
On Tuesday, Pakistan's Prime Minister Imran Khan took to Twitter indicating that he had directed the NDMA, the Pakistan Army, and other Federal government agencies to start relief efforts for those affected, following the "heavy snowfall and landslides which brought a message of death and destruction to AJK":



But those efforts will likely be hampered by yet more severe cold weather.
The country's Meteorological department has issued an emergency statement, warning of the continued "risk of closure of inter cities connecting roads due to heavy snowfall" in a total of 15 districts including Kohistan, Hunza, and Skardu; for the remainder of the week.



Furthermore, the death toll has surpassed 200 if you include the neighboring nation of Afghanistan.
Here more than 300 houses have been destroyed too, according to Ahmad Tamim Azimi, a spokesman for Afghanistan's natural disaster management authority.
"Most casualties were caused after roofs collapsed under thick snow," said Azimi, adding that the hardest hit areas were southern Kandahar, Helmand, Zabul and western Herat provinces.
In Herat, 7 people –all members of the same family and including children– died when their roof caved in, Azimi said.
This region of the planet has been battling wave after wave of anomalous Arctic cold since December of last year. And over the past few days alone, some 8x more people have died as a result of the frigid conditions in Pakistan and Afghanistan than have perished in Australia's wholly preventable wildfires– since the beginning of the bushfire season back in Oct, 2019!
But as this disaster isn't heat-related the mainstream media couldn't care less:



And there appears to be no let-up to Asia's frigid conditions in sight, with the Pakistan Met Office's Chief Meteorologist Dr. Azmat Hayat Khan predicting this winter season will be a prolonged one, with the potential for it to last well-into March, or even April.
Khan added that temperatures during this whole period will remain well-below the seasonal average.
Heavy snow and anomalous cold was never part of the original "global warming" narrative, and don't let anyone fool you into thinking these scenarios could ever be linked.
Total Snow Mass for the Northern Hemisphere (excluding mountains) is currently sitting comfortably above the average, and has been doing so for the entire season–again, something that simply shouldn't be happening in a supposedly warming world:



This is how glaciers form.
This is also how ice ages begin.
And they can begin incredibly quickly, too — just take 2019's Autumn Snowfall at Great Falls, MT as an example; look at the staggering rate at which the snowpack accumulated in that northern U.S. city: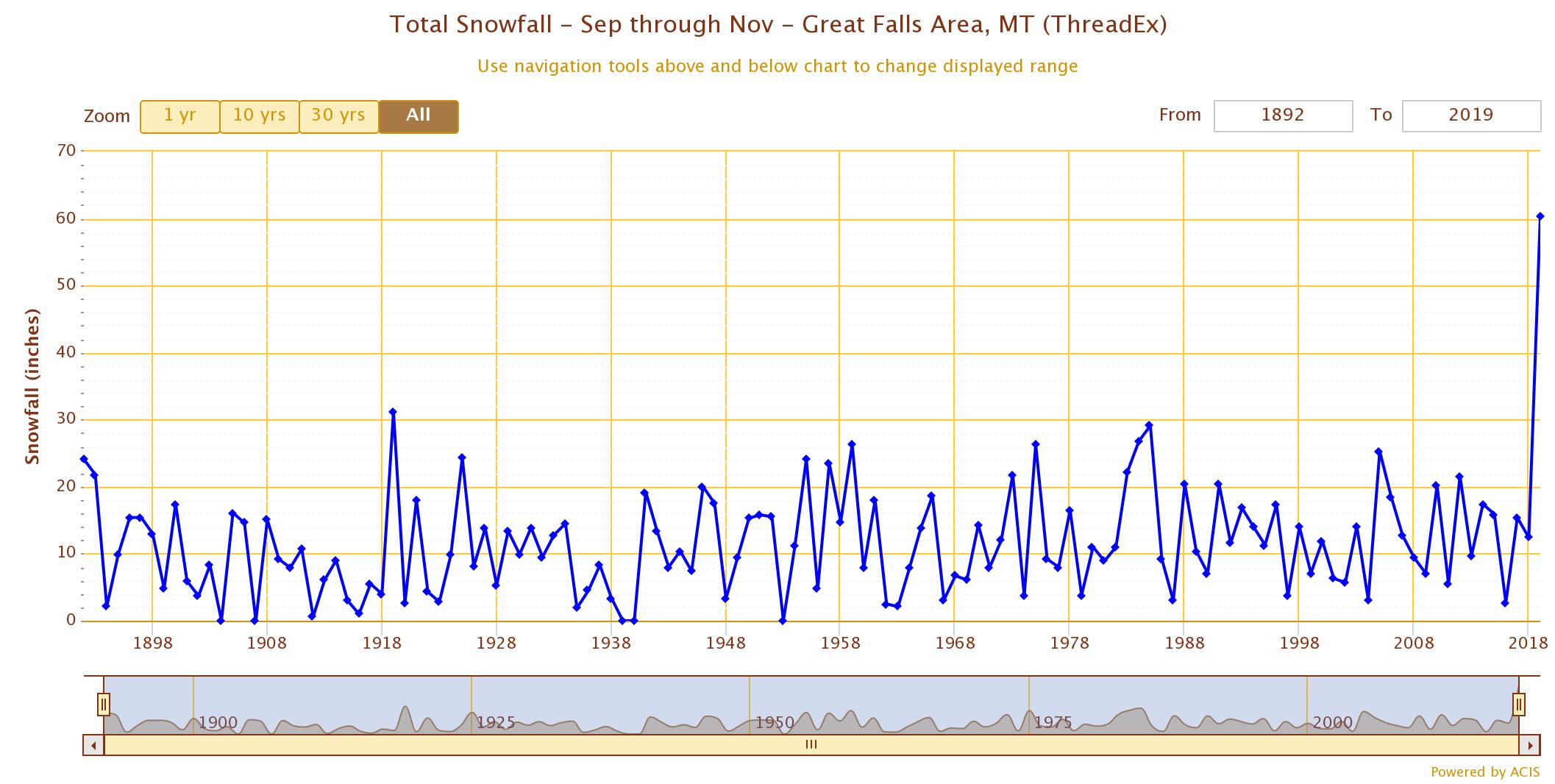 The lower-latitudes are refreezing in line with historically low solar activity:



And NASA has recently revealed this upcoming solar cycle (25) will dip further still, to become "the weakest of the past 200 years," with the agency correlating previous solar shutdowns to prolonged periods of global cooling here.



Don't be fooled by bogus, UHI-ignoring political agendas — our future is one of ever-descending COLD, and of CROP LOSS — due to the intensification of the sun's next Grand Solar Minimum cycle.
Prepare accordingly — relocate if need be, and grow your own.


Social Media channels are restricting Electroverse's reach — be sure to subscribe to receive new post notifications by email (the box is located in the sidebar >>> or scroll down if on mobile).
And/or become a Patron by clicking here: patreon.com/join/electroverse
The site receives ZERO funding, and never has.
So any way you can, help us spread the message so others can survive and thrive in the coming times.


Grand Solar Minimum + Pole Shift