BREAKING: Mass Web Outages
A number of high-profile websites including Amazon, the New York Times, Reddit and Twitch have gone down in what appears to be a mass web outage.
The outage, which began shortly before 11am UK time, saw visitors to a vast array of sites receive error messages including "Error 503 Service Unavailable" and a terse "connection failure".
Others received a "fastly error" saying the domain of a significant website such as the BBC was "unknown".
The outage has impacted websites across the world, including 9Now and TheAge in Australia, as well as The Guardian and the BBC in the UK, and CNN in the US (so it's not all bad news then).
PayPal, Spotify, Reddit, parts of Twitter have also been affected.
As have world governments, including the UK's gov.uk website:



News site The Verge has resorted to using a Google Doc to report on the outage, after being affected by the issue — but at first, it forgot to turn off the editing function.
The exact cause of the outage is not currently known.
It is believed the to be connected to a global CDN disruption from provider Fastly.
Fastly, a global online content delivery network (CDN), has reported an outage across its network, affecting sites which use its platform.
It's status page is not a happy read right now: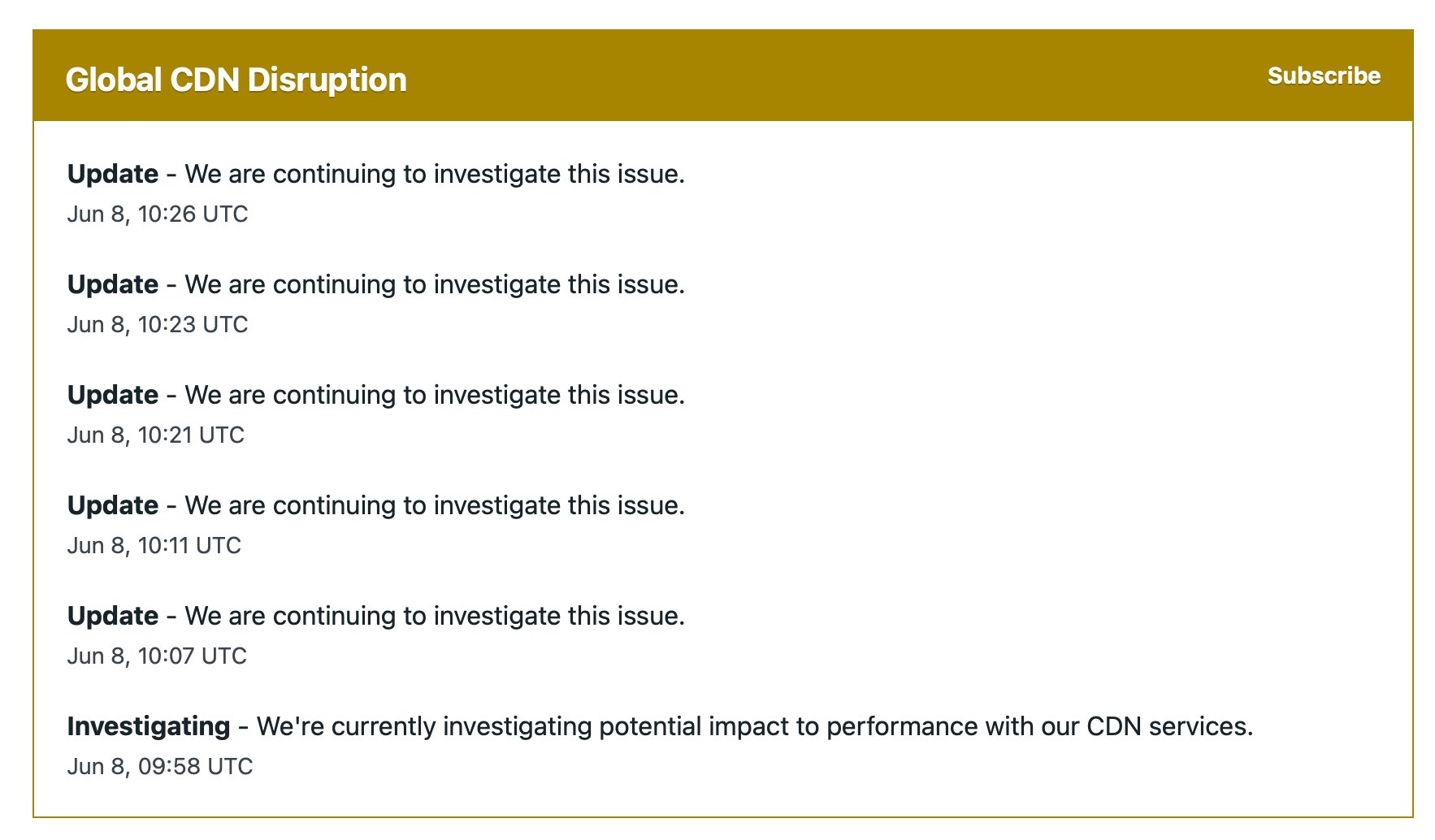 The US-based company has confirmed it has found the issue, and it is working to repair it — a number of websites are now beginning to come back online.
Confusingly, the outages appear to be localized.
For example, websites reportedly down elsewhere are accessible in Berlin, Germany.

This may be a caching phenomenon.
The last time something like this happened, with Cloudflare's 2020 outage, it only affected specific cities across Europe and the Americas — localized outages appear to be the case with this latest breach, too.


Stay tuned for updates.